Milid

Milid, or Malatya (today Arslantepe in east-central Turkey), was a Hittite settlement on a fertile plain watered by the Tohma River, a tributary of the Euphrates. It is surrounded by the high ranges of the Taurus Mountains.
After an unsuccessful attempt to capture the Mitanni capital of Wassukani by passing through Kizzuwadna, the Hittite King Suppiluliumas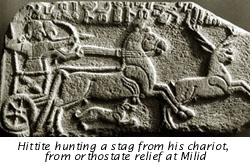 succeeded by passing through Milid and coming upon Wassukani from behind.